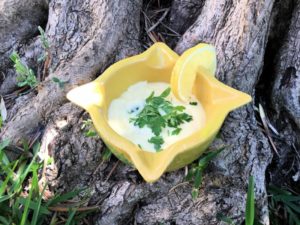 Who does not know, the tasty garlic mayonnaise from Spain, the alioli (known aswel as all i oli or ajo aceite). Alioli can be served with many dishes such as meat, fish and vegetables specially with arroz a banda is delicious. I assure you that when you try a arroz a banda in Denia with this sauce, the rice wins and a lot. You can find it ready to buy everywhere but home-made taste much better!
There are 2 options for preparation. The classic variant is crushed in a jar of garlic with a mortar and gradually added with constant stirring olive oil. This requires a lot of time and practice to make it work well.
The other, much simpler and safer variant, is with a hand mixer. Often not only olive oil, but also sunflower oil is used to prepare the alioli, because it does not taste so intensive. When using olive oil, one should definitely use a soft olive oil.
The origin of this sauce, like most of them, is disputed by many people. From Andalusia, Sicily, Catalonia, Valencia, Alicante or the Balearics try to dispute the pride of being the inventors of this sauce from which the mayonnaise sauce that we know so well. One of the oldest recipes that dates back to the times of the Egyptians and that has been so famous in some of the Mediterranean coastal regions.
Ingredients
1 egg
1/2 tsp mustard
1 teaspoon lemon juice
1 clove of garlic
1/2 tsp salt
250 ml sunflower or soft olive oil (to taste)
Info
Persons: 4
Preparation: about 10 minutes
Difficulty: very easy
The preparation
For the preparation of the alioli we need a small round and tall vessel (for example a measuring cup). First peel the garlic and cut into small cubes. Then add the egg, mustard, lemon juice, salt and garlic to the jar. pour the oil slowly and carefully so that the egg remains below. The egg must stay down at the bottom.
Now carefully place the hand mixer into the jar, switch it on at the highest level and slowly pull it from the bottom to the top until the alioli has a consistency of mayonnaise.
Finished ! Adjust seasonings to your liking and delight! Approximately refrigerate for 30 minutes and serve.
Tip: Alioli also tastes great on toasted bread slices, delicious!