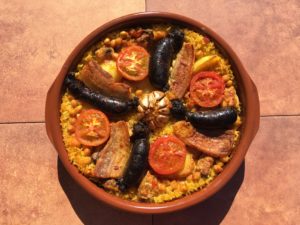 Arroz al horno is rice baked in the oven. It is a kind of paella and very popular in Spain especially in the Comunidad Valenciana.
Although this dish is usually put in the oven, it can also be prepared in a paella pan. This is often done at Fiestas, when you have to cook for a lot of people. The paella pan is covered with aluminum foil, so the oven should be simulated what succeeds.
Arroz al horno is a luscious dish because it is made with very hearty ingredients.
Especially for the colder months, super delicious.
Ingredients
1/2 kg pork ribs diced
1 garlic bulb
500 g of rice
3 tomatoes
1 teaspoon sweet paprika powder
1 liter chicken broth (see ingredients chicken stock)
100 g of chickpeas
3 potatoes
4 blood sausages
2 slices of panceta un-smoked bacon
Olive oil
Salt
For the chicken broth
chicken bones
1 onion
1 carrot
1 bay leaf
Fresh parsley
Olive oil
Salt
About 1.2 liters of water
Info
Persons: 4
Preparation: about 1 hour
Difficulty: easy
The preparation
First, we prepare the chicken stock. Simply pour the water into a saucepan, quarter the onion, peel the carrot and bring to a boil with the remaining ingredients such as the bay leaf, the parsley, the oil and season with salt. Cook for about 40 minutes. Of course, you can buy the chicken stock ready, but homemade tastes best.
Then put the olive oil in a large pan and heat. Put the whole garlic bulb (remove the outer shell) into the pan and fry with the pork ribs on both sides, sprinkle a bit of salt over it. Turn the flame back a little.
Then remove the meat and set aside. Then add the rice and fry for 3 – 4 minutes in the olive oil. Puree the tomato and add it with the paprika powder in the rice and fry for about 1 minute. Keep stirring.
Then pour the boiled chicken broth through a sieve and place in a fire-proof round or square baking dish. Add the rice with the garlic, the chickpeas and distribute evenly in the mold. Peel the potatoes and cut into long, thick slices, halve the 2 tomatoes and place them in the casserole dish with the bacon and black pudding. Bring to the boil on the stove, season with salt again if necessary and then put in the oven and bake for about 40 minutes at 200 degrees.
Serve hot immediately after baking.