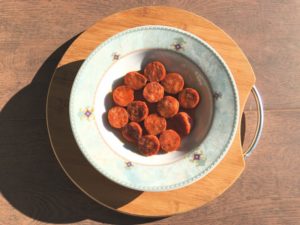 One of the most popular tapas specialties is the Chorizos en Vino, spicy sausage in wine. In almost every tapas bar you can enjoy this fine treat, this Spanish dish is as simple as they come and never fails to impress!
You can prepare it with white wine, red wine or sidra. The preparation is quick and easy. With this recipe, we used white wine.
This dish is also ideal if you have invited guests.
Ingredients
6 pieces of chorizos (sweet pepper)
250 ml white wine
50 ml of water
2 bay leaves
1 pinch of salt
Info
Persons: 4
Preparation: approx. 20 minutes
Difficulty: very easy
The preparation
Put the white wine in a saucepan with the water. Puncture the chorizo several times with a fork and add with the bay leaves and the pinch of salt. Bring everything to boil. Then place on a small flame and simmer for about 15 minutes.
After cooking, remove the chorizos from the pot and cut into 1 – 1.5 cm thick slices and put back into the pot and simmer for about 5 minutes. Then place in a deep dish or bowl and pour over the sauce. Remove the bay leaves. Serve hot and add a toothpick. A pleasure !!!!!
Variants: spicy chorizos, red wine or sidra.There are other variations of this dish which use a different poaching liquid. To mix it up, try replacing the white wine with a red wine or Spanish Sidra (chorizo a la sidra) and boil with a couple of laurel leaves.